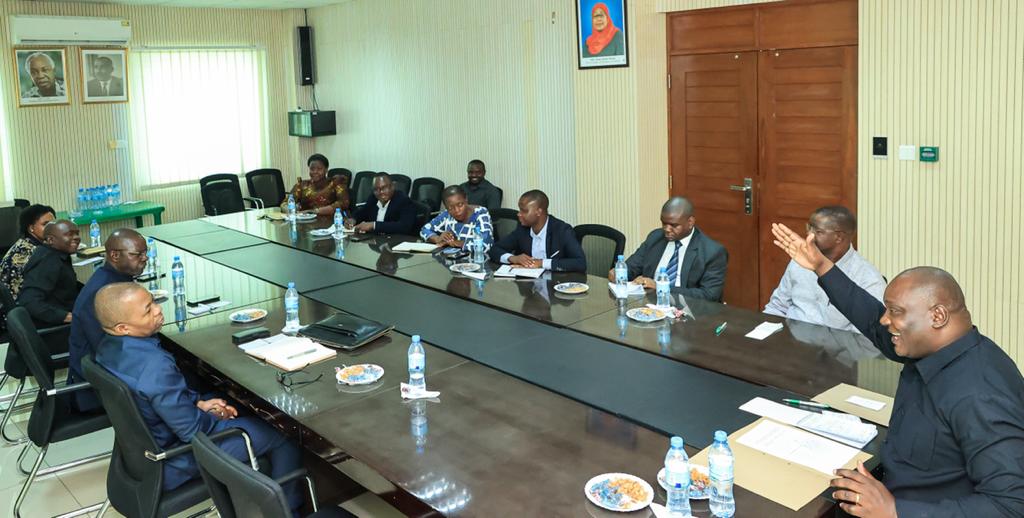 General Secretary of the Revolutionary Party (CCM) Ndg. Daniel Chongolo met and held talks with ambassadors from five Southern African countries Angola, Namibia, South Africa, Mozambique, and Zimbabwe, where among other things they focused on evaluating, developing cooperation, and improving the operation of the Leadership College. of Mwalimu Julius Nyerere (MJNSL), located in Kibaha, Coast Region.
In the talks held today Friday 01 July 2022 at the CCM Lumumba Sub-Headquarters Offices, in Dar es Salaam, Mr. Chongolo has met with Hon. Ambassador Lieutenant General (Retired) Anselem Sanyatwe - Zimbabwe, Hon. Ambassador Lebbius Tangeni Tobias - Namibia, Hon. Ambassador Sandro Renato Agostinho De Oliveira - Angola, Hon. Ambassador Ricardo Mtumbuida - Mozambique and Hon. Acting Ambassador Stella Vuyelwa Dhlomo-Imieka South Africa.
The MNJSL College located in Mfipa - Kibaha, Coast Region, Tanzania, is run in partnership with the Six Liberation Front in Southern Africa, namely CCM -Tanzania, ANC - South Africa, FRELIMO - Mozambique, SWAPO - Namibia, ZANU - PF - Zimbabwe, MPLA - Angola.
Speaking on behalf of the ambassadors, the Ambassador of Mozambique to Hon. Ricardo Mtumbuida said the six liberation movements, which are co-operating with the Mwalimu Julius Nyerere Leadership College, have a unique role to play in guiding today's youth to remain patriotic, well-meaning, and caring for the interests of the African continent.
In addition, NEC Secretary, Politics and International Relations Colonel Ngemela Lubinga addressed the session and answered questions from journalists on 30 years of multi-party democracy in the country, stressing that CCM and other liberation movements are responsible to continue to serve and guide the people. fairly and democratically at all times to create the conditions for prosperity and development expected.